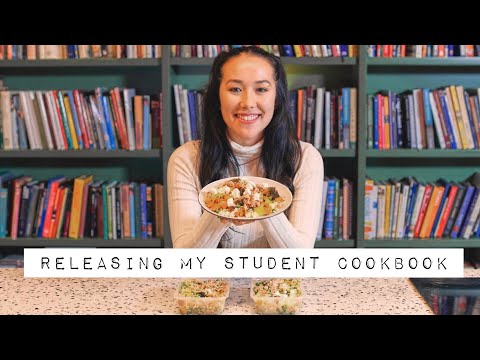 ♡ What I eat as a student on a budget || Mei-Ying Chow x Scape || quick, and affordable student recipe ideas ♡
IT'S HERE!! Click this link to download the FREE Food for Thought Cookbook for all the recipes, including: batch cooking prep, one pot wonders, brain booster recipes, communal cooking ideas and library lunches, along with the costs and photo explanations. The cookbook, created in partnership with Scape, the student living specialists, also includes costs and cooking methods –
Scape and I have worked so hard to make this the perfect guide for you, aiming to help you cook delicious, nutritious and quick recipes from scratch. I really hope you enjoy it and I can't wait to see your recreations of the dishes – please tag me and Scape!
In this video, I share with you how to cook my favourite Roasted Vegetable Couscous and let you see the inside scoop of the gorgeous Scape Bloomsbury Kitchen.
Another huge thank you to the lovely George and Louisa from Scape for letting me spend 10 hours in your beautiful scape kitchen. Louisa was also a star with the videography! This certainly couldn't have been done without the amazing help of Stephen's photography and food stylist, Emma. You have all made this project such a fun experience and I'm so honoured and proud to be apart of it.
Collaboration with Scape, the student living specialists
LINK TO COOKBOOK:
Food Photographer
www.instagram.com/stephen__conroy
www.foodphotography.london/
Food Stylist
www.emmajanefrost.co.uk/
If you want to watch my last video – Sheffield uni vlog –
WHERE TO FIND SCAPE-
Instagram ||
Twitter ||
WHERE TO FIND ME-
Instagram ||
Twitter ||
Business email || mei-ying@influencer.com
Comment below your favourite recipe in the eBook to earn some Chow points!
key words – what I eat at uni, what to eat at uni, cooking at university, what I eat in a day, student meal ideas, student prep, what I eat at college, healthy easy recipes, healthy recipes, how to make easy recipes, how to cook student meals, what I meal plan, student meal plan, student what i eat in a day, healthy food ideas, quick and healthy food ideas, healthy what i eat in a day, healthy meal ideas, student lunch ideas, university food, student dinner ideas, university dinner ideas, student meal plans, student food ideas, food inspiration