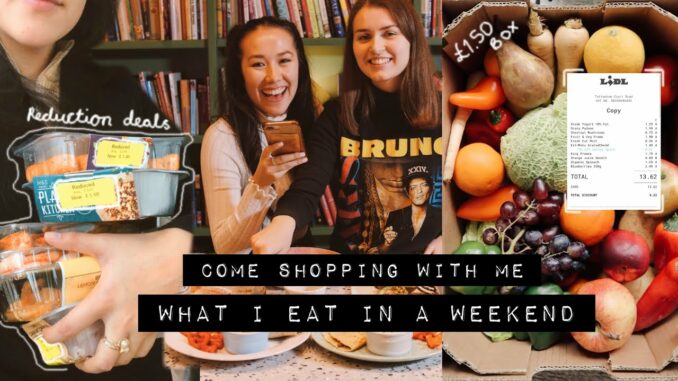 ♡ come bargain shopping with me – on an M&S reduced yellow sticker hunt || what I eat in a day as a student ♡
RECIPES
🍋 CREAMY LEMONY PASTA 🍋
100g spaghetti
75g double cream
80g of mushrooms/ asparagus
hard cheese to sprinkle on top
1 lemon
1. cook spaghetti in boiling water for 8 minutes, don't forget to salt the water
2. while it's cooking, cut up your veg and grate your lemon zest & cheese
3. once pasta is cooked, drain out the water and keep a little for the sauce and keep pasta in the colindar
4. then add some oil to your pan and fry your veg with garlic for 4 minutes before adding the double cream, loom zest, juice and pasta water and leave to simmer for 2 minutes before adding the pasta back in
5. stir all together and plate up with a sprinkle of cheese and season to taste
🥕 VIETNAMESE SUMMER ROLLS 🥕
rice paper sheets 30cm preferably
1 grated carrot
vermicelli rice noodles
sliced cucumber
tomato
lettuce leaves
spring onion/ chives
mint/ coriander
king prawns
1. activate your rice paper by submerging it in warm water for 20 seconds
2. the first row should include your lettuce leaves, noodles, cucumber
3. 2nd row: tomato, carrot and herbs
4. 3rd row: prawns, I added sesame seeds at this step as I wasn't having the peanut sauce
5. roll each row individually and tuck in the sides tightly… as if it were a closed burrito?
SIMPLE PEANUT SAUCE 🥜
3 tbsp peanut butter – preferably crunchy
2 tbsp hoisin sauce
microwave or heat these on a pan together
FISH SAUCE 🐟
2 tbsp fish sauce
2 tbsp lime juice
2 tbsp honey/ sugar/ agave syrup
1 tbsp garlic granules/ paste
mix together
🍆 FALAFEL & ROASTED VEG COUSCOUS 🍆
granose falafel packet
couscous
any left over veg – broccoli, peas, spinach, parsnips, sweet potato, pepper, aubergine
apple cider vinegar
mediterranean herbs
garlic salt
paprika
lemon juice
olive oil
1. cut up the veg into tiny pieces and roast at 180 with a drizzle of oil and herbs for 20-40 minutes – check on it to make sure it doesn't burn
2. 1:1 ratio for couscous aka 1 cup of couscous = 1 cup of boiling water and let sit and expand
3. add 150ml of water to the falafel mix, stir well, and let sit for 5 minutes before either putting in the oven for 10-15 minutes at 180 Celsius or frying for 5 minutes on medium
4. add everything onto a frying pan, couscous, veg and falafel and add in lemon juice, vinegar and season with salt and pepper to taste
follow me!
📸 instagram:
🐣 twitter:
🛍 depop: meiyingchow
🎨 pinterest: meiyingchow
🍽 my free uni cookbook downloadable here:
business enquires:
💌 meiyingchow.ig@gmail.com
discounts!
💸 £50 off airbnb
💸 £15 off ubereats
music:
🎶 Music by Mark Generous – Orange And Pomegranate –
🎶 bread- lukrembo
🎶 frumhere, kevatta – warm feeling –