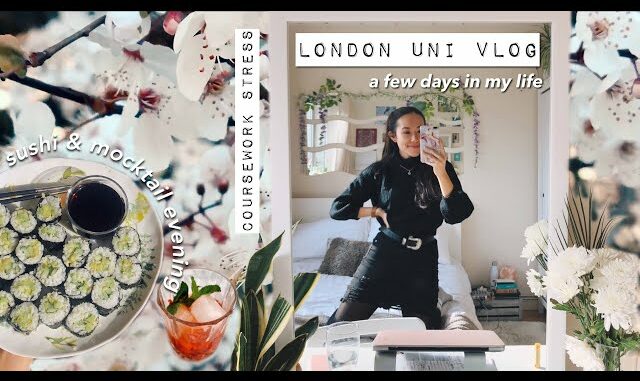 ♡ a few days in my life – final year university student vlog || king's college london uni ad ♡
Welcome to my little london university vlog. You get to watch me stress over my coursework while simultaneously spending a few hours each day either colouring, making sushi or going for long walks around Regents Park. What's not to love! Although, my neighbour's daily drilling activity is starting to drive me insane… I hope you enjoy the little life update 🐶
a HUGE thank you to vodafone for sponsoring this video – I've really enjoyed shooting some of this weeks vlog using their new partner phone – The Samsung Galaxy s21 – the extra slow mo shots… enjoy 💕
stuff 📦
Samsung Galaxy s21 £50 off amazon voucher for new customers:
lemon drizzle recipe:
plant encyclopaedia: fiddleandthorn.com
herb growing kit:
perfect plastic plant pots with little trays:
✨ EXCLUSIVE OFFER FOR NEW VODAFONE CUSTOMERS ✨ Buy any of the Samsung Galaxy S21 series with Vodafone, and get a £50 Amazon voucher – just use the link
Purchase will be verified as eligible for a voucher between 90 & 120 days after the original purchase date. Once verified, details of how to claim will be sent to your email address provided. Voucher must be claimed within 90 days from receipt of the email. This promotion cannot be combined with any other promotion, offer or discount.
The Amazon voucher offer ends 31st March, but you will still be able to purchase the S21 series using this link. CPI+3.9% increase each April, min term agmt, credit check & terms apply. Price incl. £15 saving, when you trade-in eligible device. Subject to trade-in checks. AUP: Upgrade from month 12 & start new 24 month plan. Upfront & monthly plan costs apply. Working device must be returned in good condition. 5G subject to coverage.
Rebecca's mocktail recipe:
1 lemon grated & squeezed
4 strawberries diced
1. 1:1 ratio of sugar: water on medium heat and stir until syrup consistency – aka it'll start to thicken
2. add in your lemon juice and lemon rind – and strawberries if you want to
3. take off heat and leave to cool for 5-10 minutes
4. muddle your diced strawberries and mint together – or blend in a blender
5. add ice cubes and pour your lemonade syrup over the top
6. voila!!
4 ingredient creamy pasta recipe for 2 people:
– 200g of spaghetti & keep some of the pasta water to add to your creamy sauce so it's not too thick
– 150ml of double cream
– 1 lemon
– asparagus
Then feel free to add garlic, salt and pepper, and you'll need 1 pan
1. cook your spaghetti, and once cooked, drain it
2. fry up your asparagus with salt and garlic for 2 minutes
3. add the double cream
4. grate in the peal of the lemon and squeeze half the lemon juice in
5. then add back the spaghetti for a final stir
6. voila!
watch my last weekly vlog: company law exam, canon photoshoot and an internship interview
follow me!
♡ instagram:
♡ twitter:
♡ depop: meiyingchow
♡ pinterest: meiyingchow
♡ my free uni cookbook downloadable here:
business enquires:
♡ meiyingchow.ig@gmail.com
Discounts!
♡ £50 off airbnb
♡ £15 off ubereats
music:
cheese lukrembo
Music by Chinsaku – Blossom –
Music by Fiji Blue – Space Makes Me Sad –
Music by Public Library Commute – You Been On My Mind –